Mentos Chewing Gum Product Review
So, I received the
Mentos Chewing Gum
from my Influenster Holiday Voxbox. I posted this review on the Influenster site, but thought I would post it here too. Check back over the next couple of days to read about the other items I received (imPress Nails, Softsoap, NYColor, Larabar, and Montagne Jeunesse). I am still working on the whole writing a review and getting my point across, but I promise it will get better with practice.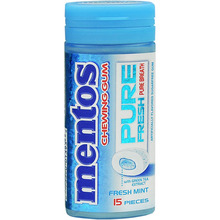 Quick Take:

Burst of freshness, fresh mint tasted fresh, loved the container
The Verdict:

Worth the try!
My first piece, I felt this burst of freshness. The pieces are a bit big and not sure if the flavor really lasts that long (only because I feel like the flavor coated my mouth and the flavor I tasted, I wasn't sure if it was coming from the actual gum or still my initial taste). I love the container though. No more mashed up gum in the bottom of a bag.
Just a reminder that I received this item free from
Influenster
.